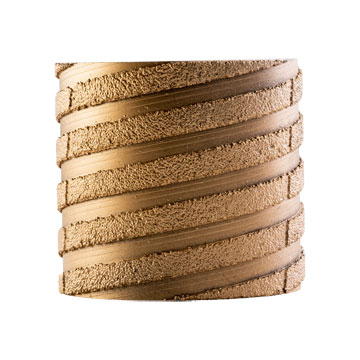 Milling drum A80-M500A
Special diamond tool for paint and thin coatings on very hard substrates (concrete, metal, etc.).
Milling drum A80-P400XL
This special tool has the same characteristics as the standard tool P-400Y.
However, the considerably greater dead weight acts as a flywheel mass to stabilise the smooth running of this milling drum. It reduces vibrations when the ground is vibrating.
Attention with very hard ground!
Milling drum A80-W200A
Extremely sharp carbide tool for wood, plastic, GRP surfaces, etc.
Milling drum A80-P500Y
Removal of product from extremely hard substrates as long as there is no metal such as screw heads or false ceiling fixings in the substrate. Can work with a greater penetration depth than the A80-P400Y version.
Milling drum A80-P700
Robust PCD cutter, longer service life, even on hard concrete.